Downtown Easton is our neighborhood.
Click on the images below to learn more about each organization we support.
There are so may great ways God is at work guiding neighbor to help neighbor. These are some of the LOCAL PARTNERS in mission we work alongside to care for our community:
We make monthly contributions of pasta to the Interfaith Food Pantry. We support ProJeCt in multiple other ways: donations, participate in Highmark Walk, and a new partnership with the summer education program Sizzle.
We provide food for lunch each month for this emergency shelter; we also provide and serve a full dinner at the shelter once a month. The sign-up sheet to provide dinner is posted on the Mission Bulletin Board in our legacy hall. Teams, groups, or individuals are encouraged to sign up. Contact the church office with any questions.
"Make It –Take It" Kitchen
We partner with the Easton Hunger Coalition to help low-income families learn to prepare healthy meals on a budget.
Our talented knitters and crocheters create beautiful hats, shawls, mittens and much more to offer some gentle comfort to those who are ill, to our new born babies, and even to our college students as they transition away from home.
We also have NATIONAL MISSION CONNECTIONS to help us serVE:
The Presbyterian Church USA General Mission is supported through our annual church budget. We also participate in the Peacemaking Offering, which supports peacemaking programs, One Great Hour of Sharing to aid hunger, disaster relief, and refugee assistance, and the Christmas Joy Offering, which supports school scholarships and retired church workers.
We serve Equal Exchange Coffee during the coffee hour on Sundays! For each pound of fairly traded coffee, chocolate, tea, and foods Presbyterians purchase through the Coffee Project, 15 cents per pound goes to the PCUSA's Small Farmer Fund.
Troop Support Project SundaY
This annual drive provides toiletries, other personal articles, snacks, and personal thank-you cards to troops serving overseas.
AND SOME WORLDWIDE MISSION CONNECTIONS: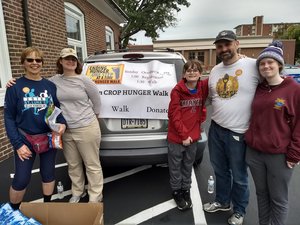 Our church supports the annual CROP Walk, with walkers and sponsors. 25% of the money raised will support local hunger ministries. The other 75% will bless hungry folks around the world though Church World Service.
Hungarian Reformed Church of RomaniA
Since 2003, our partnership with the Nagyvarad-Ret Hungarian Church in Oradea, Romania has included mission trips, friendship letters, email correspondence, an exchange of gifts (including a communion cloth and pottery set), and sending congregation-signed Christmas cards to our partner church.